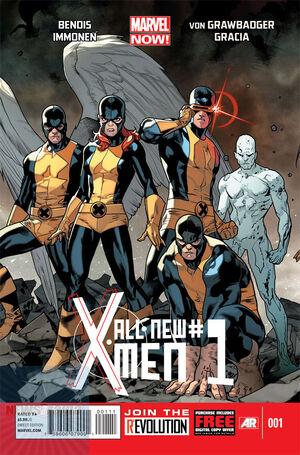 Comic Details
Publication Details
Series Title:
All New X-men Vol 1
Released Price:
$3.99
Issue #:
1
Series Volume #:
1

All New X-men Vol 1 1 is issue #1 of All New X-men comic series.
It's a blast from the past as the original five students of Professor X – Cyclops, Marvel Girl, Iceman, Angel and Beast – are plucked from the past and brought to the present. But what they find, the state that their future selves are in and the state of Xavier's dream, is far from the future they dreamed of. And how will the X-Men of the present deal with their past coming crashing forward?
The Story
Edit
Warning! Spoilers!
Person, Place, or Thing
Edit
Characters
Edit
Supporting Characters
[[]]
Ad blocker interference detected!
Wikia is a free-to-use site that makes money from advertising. We have a modified experience for viewers using ad blockers

Wikia is not accessible if you've made further modifications. Remove the custom ad blocker rule(s) and the page will load as expected.