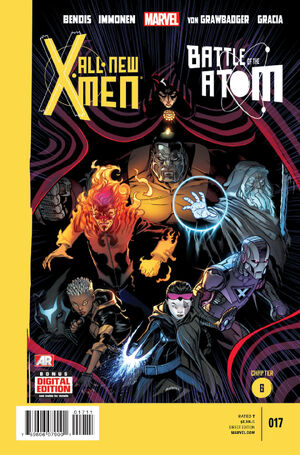 Comic Details
Publication Details
Series Title:
All New X-men Vol 1
Released Price:
$3.99
Issue #:
17
Series Volume #:
1
All New X-men Vol 1 17 is issue #17 of All New X-men comic series.
X-MEN: BATTLE OF THE ATOM, PART 6!
• Magik and Young Beast have a special mission!
• The X-Men and Future X-Men have Jean Grey and Cyclops and are going to send them back in time with the rest of the Original X-Men.
• But who is opposing them and why?
The Story
Edit
Warning! Spoilers!
Person, Place, or Thing
Edit
Characters
Edit
Supporting Characters
[[]]
Ad blocker interference detected!
Wikia is a free-to-use site that makes money from advertising. We have a modified experience for viewers using ad blockers

Wikia is not accessible if you've made further modifications. Remove the custom ad blocker rule(s) and the page will load as expected.