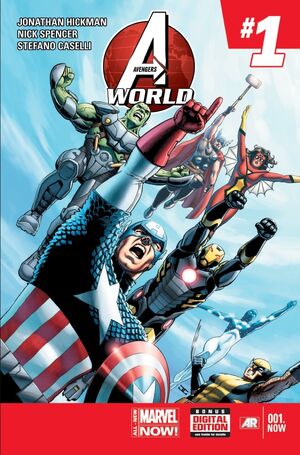 Comic Details
Publication Details
Series Title:
Avengers World Vol 1
Released Price:
$3.99
Issue #:
1
Series Volume #:
1

Avengers World Vol 1 1 is issue #1 of Avengers World comic series.
"TROUBLE MAP" Earth's Mightiest Heroes have returned from the stars-- but on the world they left behind, new threats have emerged, and The Avengers will be tested like never before. In one cataclysmic day, the face of the Marvel Universe will change forever-- and the fight for Earth's future will begin. A globe-spanning epic of empires and armies, and the brave few who stand between them and us.
The Story
Edit
Warning! Spoilers!
Person, Place, or Thing
Edit
Characters
Edit
Supporting Characters
[[]]
Ad blocker interference detected!
Wikia is a free-to-use site that makes money from advertising. We have a modified experience for viewers using ad blockers

Wikia is not accessible if you've made further modifications. Remove the custom ad blocker rule(s) and the page will load as expected.