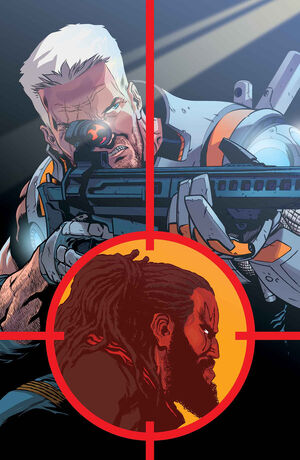 Comic Details
Publication Details
Series Title:
Cable and X-Force Vol 1
Released Price:
$3.99
Issue #:
18
Series Volume #:
1

Cable and X-Force Vol 1 18 is issue #18 of Cable and X-Force comic series.
• Classic X-Force villain STRYFE has returned! And he's eager to exact his revenge on the man who left him broken and adrift in the timestream: CABLE.
• As Stryfe's plan comes to bear, Hope is brought face-to-face with Bishop, the man who crusaded across centuries in a mission to exterminate her. But this time around, she's ready to retaliate…and they'll hold nothing back as they race to destroy one another.
• Don't miss this no-holds-barred, knockdown, drag-out X-FORCE event! Because when the dust settles, only ONE X-Force team will be left standing…
The Story
Edit
Warning! Spoilers!
Person, Place, or Thing
Edit
Characters
Edit
Supporting Characters
[[]]
Ad blocker interference detected!
Wikia is a free-to-use site that makes money from advertising. We have a modified experience for viewers using ad blockers

Wikia is not accessible if you've made further modifications. Remove the custom ad blocker rule(s) and the page will load as expected.