History 
Edit
Daredevil has been known to wield a multi-purpose weapon that has many different modes. It's initial form is two billy clubs held together by an extendable cable.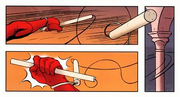 It can shift from a nunchaku- like weapon to a manrikigusari (a long rope/chain weapon with two weights on its ends), dual billy clubs which can be wielded in an Eskrima-like fashion, staff, or a cable with a grappling hook. The weapon can also be adjusted to combine both sticks into an Eskrima stick. Most notably, the billy club can be disguised as a blind man's cane, for use by DD's alter ego, Matthew Murdock. The weapon is held by a holster on the side of Daredevil's left leg.
In early canon, the Billy Club had a retractable microphone, a miniature tape recorder, chamber for firing projectiles. The Billy Club has always been depicted with a wire cable which allows the club to be used as a grappling hook and it can also be used as a baton.
Avengers vs X-men
Edit
Daredevil vs Psysloke
Edit
Daredevil in his battle with Psysloke at Avx used his Billy Clubs and also many other weapons and senses so as to counter telepathy and assassin powers and abilities.
Ad blocker interference detected!
Wikia is a free-to-use site that makes money from advertising. We have a modified experience for viewers using ad blockers

Wikia is not accessible if you've made further modifications. Remove the custom ad blocker rule(s) and the page will load as expected.