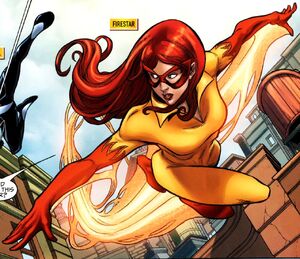 Most recent costume
Firestar
Personal Info
Full Real Name:
Angelica Jones
Current Alias:
Firestar
Current Alias:
Firestar
Affiliation:
Young Allies, New Warriors, Avengers, Hellions, X-Men
Base Of Operations:
New Warriors' Crash Pad
Vital Statistics
Status:
Alive
Species:
Mutant
Powers:
Microwaves, Flight
Comic Appearances
Appearances
First Appearance
Uncanny X-men Vol 1 93
Last Appearance
Unknown

Firestar had a troubled life. She was alone a lot as a child before joining Emma Frost's school and the Hellions. She was used as a tool by Emma Frost and her Hellions, and remained unaware of it before her bodyguard was killed. From there, she joined the New Warriors, and help from teammate Rage made her and new boyfriend Justice into full-fledged Avengers. After a failed proposal from Justice, she gave up the Firestar alias, before resuming it after a breast cancer scare. She then joined the Young Allies. Her first post-NOW appearance was in attempting a teaching job at the Jean Grey Institute.
Amazing X-Men
Edit
Powers and Abilities
Edit
Microwave Energy Generation: ability to tap into Earth's electromagnetic field and convert it into microwave radiation emissions, which she can utilize in different ways. Microwaves are comparatively short waves of electromagnetic energy. Firestar continually absorbs microwave energy from her environment, including microwave energy from the stars, and continually broadcasts it at low levels.
Microwave Energy Manipulation: In order to use her microwave energy for specific purposes, Firestar must mentally concentrate, thus causing the microwaves to swirl about her body, creating a visible aura around her. In order to project the microwave energy towards a specific target, she must mentally "push" some of the energy swirling around her towards that target. She can focus microwaves on a specific target, and cause it to burst into flame, or explode, or melt. She can also sense microwave signals (such as cell-phone signals or even remote-control devices) and disrupt electronics with her own microwave emissions.
Microwave Emission Heat: Firestar can use her microwave energy to generate intense heat. At this point she can already melt a metal object the size of a cannon almost instantly. She has flown towards a thick wall of solid rock and melted through it so quickly that she could continue flying right through the hole she had melted without pausing.
Microwave Emission Flight: By super-heating the air around her, she can surround her self with an aura of flaming plasma, and if she projects her plasma aura downwards in a tightly focused stream, she can generate enough upward thrust to fly at high speeds. Firestar's powers appear to become more powerful when in space, and she was once able to power a massive stargate with virtually no effort. Her maximum speed has yet to be established, but she can already fly quite swiftly and maneuver in flight quite well. She can generate enough propulsive force to carry considerable weights to great heights at high speed. For example, she has carried Colossus, in his metal-like form, which weighs 500 pounds, high into the air.
Microwave Emission Immunity: Firestar is apparently immune to the microwaves she emits, although she did undergo tests with Hank Pym to make sure.
At present Firestar is still in the process of learning how to use her powers. Moreover, she is still quite young, and the strength of her powers will surely increase as she reaches adulthood. Hence, the full extent of Firestar's powers has yet to be determined.
Firestar possesses the normal human strength of a woman of her age, height, and build who engages in moderate regular exercise.
Ad blocker interference detected!
Wikia is a free-to-use site that makes money from advertising. We have a modified experience for viewers using ad blockers

Wikia is not accessible if you've made further modifications. Remove the custom ad blocker rule(s) and the page will load as expected.