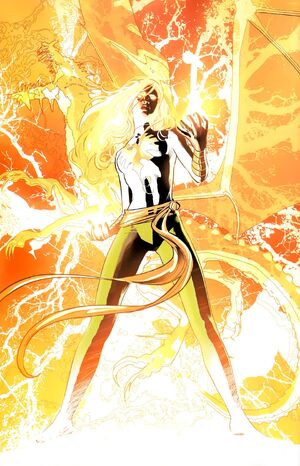 Fongji Wu
Personal Info
Full Real Name:
Fongji Wu
Current Alias:
Fongji Wu
Current Alias:
Fongji Wu
Additional Information
Number of Issues:
1
Comic Appearances
Appearances
First Appearance
New Avenger 25
Last Appearance
Only One Issue
Fongji's mother was from the Immortal City .She was part of the last pilgrimage to Earth from the city as a part of the last pilgrimage to Earth and K,un Lun she bedded an unknown western man and conceived a child prior to her return. When the Phoenix headed toward Earth, Yu-Ti started having strange dreams that a young girl with green eyes and red hair could control it. After Yu-Ti found this very girl in K'un-Lun , he took Fonji to the temple and started her training, declaring her the new Iron Fist. Manifesting the Phoenix Force, Yu-Ti let her go through the ritual of Shou-Lao the Undying, emerging after two days with its power as well. Finally arriving, Fongji mastered and became the Phoenix's new host, departing into space and never seen again.
Ad blocker interference detected!
Wikia is a free-to-use site that makes money from advertising. We have a modified experience for viewers using ad blockers

Wikia is not accessible if you've made further modifications. Remove the custom ad blocker rule(s) and the page will load as expected.