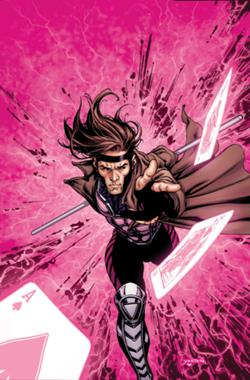 Gambit is Action
Gambit
Personal Info
Full Real Name:
Remy LeBeau
Current Alias:
Gambit
Current Alias:
Gambit
Vital Statistics
Species:
Mutants
Gender:
Male
Comic Appearances
Appearances
First Appearance
Mentioned But Not Seen
Last Appearance
Only One Issue
Remy LeBeau is a Mutant who was trained to be the leader of the Thieves Guild. Abandoned at birth due to his burning red eyes, the child who would one day become Remy LeBeau was kidnapped from his hospital ward by members of the New Orleans Thieves Guild who referred to the child as "le diable blanc" - the white devil. They believed he was the child that had been prophesied to unite the warring Guilds. Soon after, Remy was placed in the care of a gang of street thieves who raised the child and taught him the ways of thievery.
Later, when he was around ten years old, Remy attempted to pick the pocket of Jean-Luc LeBeau, then-patriarch of the Thieves' Guild. Jean-Luc took the boy in off the streets and adopted him into his own family. As part of a peace pact between the Thieves' Guild and their rivals, the Assassin's Guild, a marriage was arranged between Remy and Bella Donna Boudreaux, the granddaughter of the head of the Assassins Guild. However, Bella Donna's brother Julien objected to the marriage and challenged Gambit to a duel. Remy killed Julien in self-defense, but was excommunicated and banished from New Orleans in an attempt to maintain the non-aggression pact between the two guilds.
Avengers vs X-Men
Edit
Gambit supported his fellow mutants in this conflict but initially declined to join the battle instead volunteering to stay at the school to keep the students safe. When Falcon, She-Hulk and Moon Knight arrived at the school to keep an eye on them to make sure none of them joined the battle, Gambit expressed his dislike of the situation. After She-Hulk seriously injured a couple of students who attacked her, mistaking them for monsters, the X-Men attacked and defeated them. After the battle Gambit decided to join the war against the Avengers.
Powers and Abilities
Edit
Gambit is a Mutant a.k.a Homo Superior.
Molecular Acceleration: Remy has the power to take the potential energy stored in an object and convert it to kinetic energy thus "charging" that item with explosive results. He prefers to charge smaller objects, such as his ever-present playing cards, as the time required to charge them is greatly reduced and they are much easier for him to throw. The only real limitation to this ability is the time required to charge the object. The larger it is the more time it takes. Most charging takes place through direct skin contact. The power of his explosions is dependent on the mass of the object he is charging, for example, a charged playing card explodes with the force of a grenade. Gambit can also use his powers to accelerate an object's kinetic energy instead of converting its potential energy, for example, he can charge his bo staff with enough power to level a house.
Enhanced Agility: Gambit's ability to tap energy also grants him superhuman agility and dexterity which gives him an added edge he has used to his advantage by developing a unique acrobatic fighting style.
Static Interference: Ability to create static, because of the charged potential energy always in his body, that shields his mind from detection from telepaths. Although reportedly uncomfortable for the parties involved, this shield does not prevent telepathic invasion as suggested and shown on a few occasions.
Hypnotic Charm: Ability to "charge" the kinetic energy within a person's brain, allowing a subtle influence over any sentient mind. This power allows Gambit to compel others to believe what he says and agree with anything he suggests. More powerful minds have proven immune to Gambit's charm.
Toxic Transmutation: As Death, he has the ability to convert inert materials into toxic substances; for example, transforming breathable air into poisonous gases.
Corruption: When reverting to Death in Limbo, Gambit displayed the ability to corrupt other creatures and subvert them to his will. When used on Northstar and Dazzler they began resembling him, gaining pitch-black skin and white hair.
Ad blocker interference detected!
Wikia is a free-to-use site that makes money from advertising. We have a modified experience for viewers using ad blockers

Wikia is not accessible if you've made further modifications. Remove the custom ad blocker rule(s) and the page will load as expected.