Marvel Special Comic Issue
Longshot Saves the Marvel Universe Vol 1 1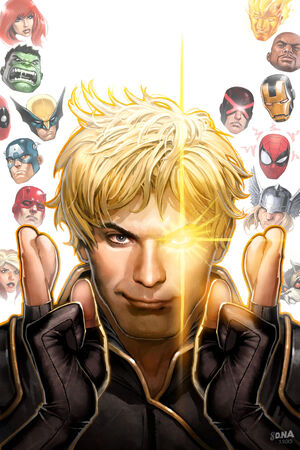 Cover A
Publication Details
Original Title:
Marvel Knights: X-Men #1
Issue #:
1
Volume #:
1
Pages:
40
Creative Team
Writer(s):
Christopher Hastings

Longshot Saves the Marvel Universe Vol 1 1 is issue #1 of Longshot Saves the Marvel Universe comic mini series.
• When someone is targeting the lucky for death, it won't take long before the luckiest X-Man, Longshot, is in the killer's sights. But things quickly go from bad to worse as super heroes, villains, all of S.H.I.E.L.D. and even COSMIC ENTITIES have it out for our boy!
• Is Longshot finally in over his head, or can he beat the odds and save the Marvel Universe when no one else can?
The Story
Edit
Warning! Spoilers!
Person, Place, or Thing
Edit
Characters
Edit
Supporting Characters
[[]]
Ad blocker interference detected!
Wikia is a free-to-use site that makes money from advertising. We have a modified experience for viewers using ad blockers

Wikia is not accessible if you've made further modifications. Remove the custom ad blocker rule(s) and the page will load as expected.