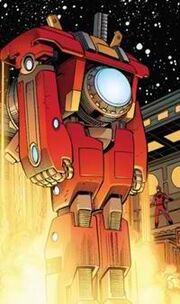 An armor designed by Tony Stark as soon as the Phoenix was said to be heading towards Earth by Nova. It was created with the aim to kill the cosmic force, when Stark used a disruptor on it, it resulted in the fractionation of the Phoenix into five parts, which possessed each X-Men member present in the Blue Area of the Moon, Cyclops, Emma Frost, Namor, Colossus and Magik.
Ad blocker interference detected!
Wikia is a free-to-use site that makes money from advertising. We have a modified experience for viewers using ad blockers

Wikia is not accessible if you've made further modifications. Remove the custom ad blocker rule(s) and the page will load as expected.