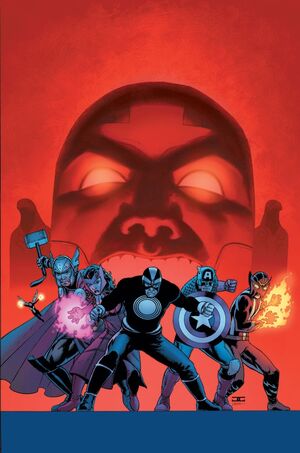 Comic Details
Publication Details
Series Title:
Uncanny Avengers Vol 1
Released Price:
$3.99
Issue #:
8
Series Volume #:
1

Uncanny Avengers Vol 1 8 is issue #8 of Uncanny Avengers comic series.
Ragnarök Now part 2! • Xavier is dead, now begins the age of The Apocalypse Twins! Now begins Ragnarök and it's all Thor's fault! • S.W.O.R.D. Peak station is attacked by Apocalypse's Ship! A Celestial's fate so shocking, so impossible, it will rock the Marvel Universe to its core. • This is it, Ragnarök is now and not even the Uncanny Avengers can hold it back!
The Story
Edit
Warning! Spoilers!
Person, Place, or Thing
Edit
Characters
Edit
Supporting Characters
[[]]
Ad blocker interference detected!
Wikia is a free-to-use site that makes money from advertising. We have a modified experience for viewers using ad blockers

Wikia is not accessible if you've made further modifications. Remove the custom ad blocker rule(s) and the page will load as expected.