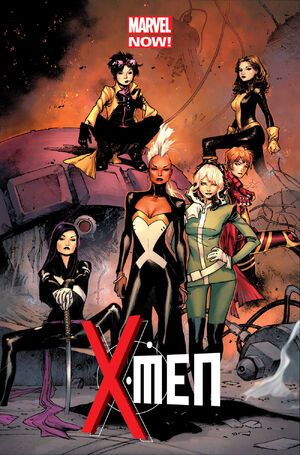 Comic Details
Publication Details
Series Title:
X-Men Vol 4
Release Date:
April 2013
Released Price:
$3.99
Issue #:
1
Series Volume #:
4
Comic Guide
Publication Order
Previous
-
Next
X-men #2
X-men Vol 4 1 is issue #1 of X-men comic series.
Because you demanded it! The X-Women finally get their own book, from critically acclaimed superstars Brian Wood (X-MEN, ULTIMATE X-MEN, DMZ, The Massive) and Olivier Coipel (AVX, HOUSE OF M, THOR)! An old enemy shows up at the X-Men's door, seeking asylum from an ancient evil come back to earth. Meanwhile, Jubilee has come home, and she's brought with her an orphaned baby who might hold the key to the earth's survival...or its destruction. Against a backdrop of what seems like an alien invasion and an eons-spanning war between brother and sister, Storm steps up and puts together a team to protect the child and stop a new threat that could destroy all life on earth!
The Story
Edit
Warning! Spoilers!
Person, Place, or Thing
Edit
Characters
Edit
Supporting Characters
[[]]
Ad blocker interference detected!
Wikia is a free-to-use site that makes money from advertising. We have a modified experience for viewers using ad blockers

Wikia is not accessible if you've made further modifications. Remove the custom ad blocker rule(s) and the page will load as expected.