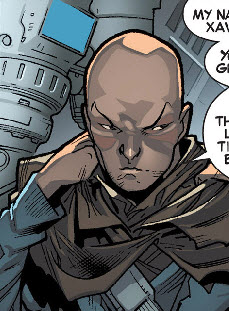 Xavier
Vital Statistics
Species:
Mutants
Gender:
Male
Comic Appearances
Appearances
First Appearance
Mentioned But Not Seen
Last Appearance
Only One Issue
Xavier is a member of the Future X-men team whose purpose is to send the All New X-men to the past.
Xavier design is similar to that of Charles Xavier, the Professor X and he has a bag with himself.
At the start of the event he is seen with the other Future X-men fighting Sentinels at the future. At the las page of Part 1 Xavier comes with his fellow X-men of the Future to the present day so as to send the Original Five back where they belong.
He stated to the other X-men to be Charles' Xavier grandson and told them that the day they decided to bring the past X-men here was huge mistake. He and Lady Xorn block and hide their thoughts from the Jean Grey of the past and that makes Jean suspecious and uncomfrotable. And with that Jean controls Logan's hand and the Future X-men thus giving here and Cyclops time to escape together. At the end Xavier that he and Lady Xorn hide their secrets and thoughts from her and that's the reason Jean left. After Lady Xorn reveals her big secret that she Jean Grey, Xavier and the other X-men try to locate the 2 X-men who just escaped.
Powers and Abilities
Edit
Xavier has his grandfather's telepathic abilities. He and Xorn were considered by teen Jean very powerful telepaths. He can also use Cerebro Spike to locate mutants and strenghten his powers in his own way.
Ad blocker interference detected!
Wikia is a free-to-use site that makes money from advertising. We have a modified experience for viewers using ad blockers

Wikia is not accessible if you've made further modifications. Remove the custom ad blocker rule(s) and the page will load as expected.