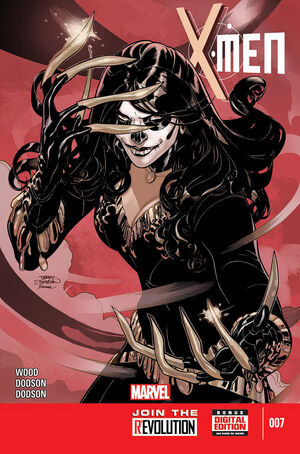 Yuriko Oyama
Personal Info
Current Alias:
Lady Deathstrike
Current Alias:
Lady Deathstrike
Affiliation:
Bad
Vital Statistics
Status:
Alive
Gender:
Female
Additional Information
Notable Enemies:
X-Men, Wolverine
Comic Appearances
Appearances
First Appearance
Mentioned But Not Seen
Last Appearance
Only One Issue
Yuriko Oyama is the daughter of Kenji Oyama, a former Japanese kamikaze pilot during World War II. Later becoming the head of Oyama Heavy Industries. Growing to despise post-war Japanese civilization, Lord Dark Wind had the then-crippled assassin Bullseye brought to his island off the Japanese coast where, he replaced some of Bullseye's broken bones with Adamantium substitutes, hoping that in return Bullseye would assassinate Japan's minister of trade for him. Arriving in Japan intent on recapturing Bullseye, Daredevil encountered Yuriko, who sought vengeance on her father and for the deaths of her brothers. Moreover her loved one, Kira, served in Dark Wind's private army, and she didn't want her father to harm him. After Yuriko guided Daredevil to her father's private island, Bullseye escaped and Yuriko slew Lord Dark Wind just as he was about to kill Daredevil.Following Daredevil's departure, Kira committed suicide in despair over Dark Wind's death. The shock of Kira's death radically altered Yuriko's outlook on life, and she resolved to carry on her father's work. Yuriko became convinced that the mutant  Wolverine had gained his Adamantium-laced skeleton by means of the process stolen from her father years earlier, thing which made her furious.
Marvel Now
Edit
Muertas Arc
Edit
The female X-Men after the Battle of the Atom are going to have to deal with her return.
Powers and Abilities
Edit
Lady Deathstrike possesses various superhuman attributes as a result of allowing herself to be transformed into a cyborg.
Superhuman Strength: Lady Deathstrike is superhumanly strong and is capable of lifting about 1 ton with supreme effort.
Superhuman Speed: Deathstrike is capable of running and moving at speeds greater than the finest human athlete.
Superhuman Stamina: Deathstrike's artificial musculature produces less fatigue toxins than the natural musculature of an ordinary human. She can physically exert herself at peak capacity for several hours before fatigue begins to impair her.
Superhuman Agility: Her agility, balance, and bodily coordination have all been enhanced to levels that are beyond the natural physical limits of even the finest human athlete.
Superhuman Reflexes: Her reflexes are similarly enhanced and are superior to those of even the finest human athlete.
Cybernetic Healing Factor: As as result of receiving an upgrade from Donald Pierce, Lady Deathstrike is able to rapidly repair damage done to both her cybernetic and organic parts within a brief period of time. She has proven capable of fully repairing damaged or destroyed cybernetic and organic tissue inflicted by Wolverine's Adamantium claws within the span of a few minutes. The more extensive the damage, the longer her reconfiguration program takes to repair her body.
Telepathic Immunity: Due to the Adamantium infusion and some testing, it has been proven that she is completely immune to mental assaults.
Cyberpathy: Deathstrike is able to cybernetically interface her consciousness with external computer systems, allowing for direct data access to her brain's memory centers and granting her the ability to remotely operate such systems.
Abilities
Edit
Lady Deathstrike is a supremely skilled martial artist, considered an expert in the art of Kenjutsu and other samurai warrior skills. She is an accomplished pilot of various aircraft and seacraft, and is fluent in both Japanese and English.
Ad blocker interference detected!
Wikia is a free-to-use site that makes money from advertising. We have a modified experience for viewers using ad blockers

Wikia is not accessible if you've made further modifications. Remove the custom ad blocker rule(s) and the page will load as expected.